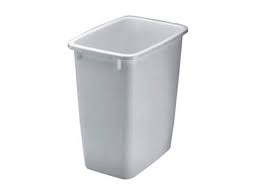 The household trashcan is an item that most people don't think about at all. Until it needs replaced, that is. Once your trashcan gets old and sticky, the smell can take over your kitchen, prompting you to get a new one. Or, worse yet, a broken trash can can leak and let in critters, which makes a big old mess either way.
Getting a new trashcan solves one problem, but it also presents another problem—getting rid of your old trashcan. Sure, you could simply toss it out with the trash, but that's not only ironic, it's contributing to the very real problem of plastic flooding the landfills. Instead of getting rid of your old trashcan completely, you may find that you can actually reuse it. After you give it a good scrubbing, of course!
1. Garden Storage
Storage for garden and yard items can be tough to find. However, you can reuse a trashcan just for this. Outdoor tools tend to get dirty anyway, so any residual grime inside the can after washing it shouldn't be much of a problem. So, use an old trashcan to corral shovels and similar tools or store a hose when you aren't using it.
2. Rain Barrel
Using a rain barrel is a fantastic way to reduce your water consumption during gardening season. After cleaning your old trashcan well, you can place it under your downspouts to catch rain water, which can be used to water plants and perform other water-related outdoor chores. Place screen over the top to keep your new rain barrel from becoming a mosquito breeding ground, and install a spigot on the bottom to get the water easily.
3. Composter
Speaking of gardening, you can also use an old trash can for composting purposes. Either use it as a bin to transport kitchen scraps from the house to the compost heap or make an awesome rotating composter from your old trashcan!
4. Sidewalk Salt Storage
If you live in an area with snowy or icy winters, then you know all about sidewalk salt! Finding a place to store the large bags of salt each season without making too much of a mess can be tricky. But, you can reuse a trashcan for this purpase. Just dump or place the bag in the garbage can, toss a scoop in, and place a lid on it.
5. Planter
For those of you with potted plants, you can reuse an old trashcan as a planter. For shorter planters, just cut the bottom off of a trashcan and use the bottom portion. Don't forget to drill holes in the bottom for drainage.
6. Yard Waste Bin
Reuse an old trashcan as a yard waste bin, and toss in leaves, sticks, tree branches, and any other natural waste. Label your bin and set it out on the curb to be picked up.
7. Broom Storage
After a thorough cleaning, an old trashcan can take on a new life as a broom an mop holder. Give it a good scrubbing and tuck it away out of sight to hold things like brooms and mops.
Do you have any other ideas for how to reuse an old trashcan? let us know in the comments below!