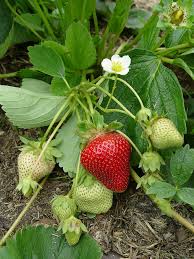 Pick your own strawberry season is just about here! Most pick your own farms are gearing up for the influx of strawberry lovers, and some are already open for business this year.
Going on a pick your own excursion with the family can be a fun and healthy activity. You get to get some exercise in the great outdoors, and you get to take home some tasty and healthy treat.
If you're planning on hitting the pick your own strawberry patch this season, here are a few tips help you along the way!
Find Pick Your Own Farms 
A quick Google search can usually turn up pick your own farms in your area. Just type in your location and "pick your own". You can also head over to PickYourOwn.org and select your state to find farms that allow you to pick your own fruit.
Contact Farms and Ask Questions
Different pick your own farms have different policies, growing practices, and prices. Call around to the different farms in your area and ask about rules, pricing, and what chemicals—if any—that they use.
Wear Sun Protection
Hanging out in the middle of an open strawberry field means that you and your family will be in the sun, so don't forget the sun protection! Wear hats, long sleeves, and sunscreen.
Ask For a Strawberry Picking Lesson
Strawberries are delicate little fruits, and improper picking techniques could mean taking home a bunch of bruised and squished fruit. Before diving into a pick your own adventure, ask the owners of the farm what the best way to pick the fruit is.
Pick Strawberries Early
Early morning strawberry picking is usually best. Not only does this keep you out of the intense afternoon sun, but strawberries picked in the cool morning hours are less likely to bruise and get soft.
Use Shallow Containers
When picking strawberries, the fruit on the bottom of the container can bruise from too much weight. To minimize bruising and smooshing, use containers that are no more than six inches deep and don't heap the berries on top.
Check Under Leaves
Strawberries can be difficult to see under the leaves. Gently part the leaves with your hands to spot strawberries ripe for the picking. Don't forget to watch where you step too, so you don't smash any of that ripe red goodness!
Only Pick Ripe Strawberries
Unlike some other fruits strawberries don't continue to ripen after picked. Make sure you only pick the juicy red ripe berries and avoid strawberries that are light pink or have white patches.
Supervise Children
Last, but definitely not least, be sure to keep kids under your watchful eye at all times. Kids will be kids, and some may get restless during your pick your own adventure. If you sense that your kids are getting a little too rambunctious and disturbing other pickers or damaging the crop, it may be time to pack it in and try another day.
Now, get out there and have yourself a pick your own adventure!