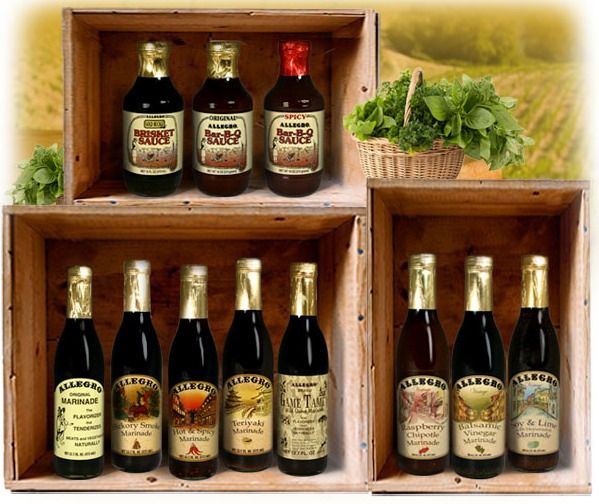 How would you like to win a gift box full of marinades and sauces just waiting to turn up the flavor your grilling recipes?  Allegro Marinades help you turn your inexpensive cuts of meats into flavorful and tender grilled meats.  Allegro Marinades come in many flavors such as Original, Teriyaky, Hickory Smoke, Balsamic Vinegar, Raspberry Chipotle, Bar-B-Q and many other enticing flavors.
You can be one of 15 Common Sense with Money readers to win a box filled with 8 marinades and 7 sauces- a $125 value.  To enter this giveaway sponsored by Allegro Marinades, visit the Common Sense with Money Facebook page and click on the "Allegro Giveaway" link on the left.  Allow the application to proceed and hit "Click to Enter" and you will be entered in this giveaway.  No need to fill out any form.  This giveaway will run for the next three days and a winner will be chosen at random by 5 PM CST Friday 10/7/11.
When you are done, stop by the Allegro Facebook page to print a coupon for $2 off any product.  This should make the bottles half off the regular price.  So wait for a sale to make this high value coupon count.  Allegro Marinades are sold in a lot of states. Check which store carries this product in the state that you live here.