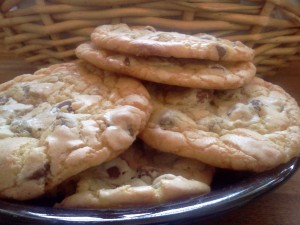 "Cake mix cookies?!"
Yeah, I can see the look of shock and horror on your face right now. My hubby had the same look on his face when I unveiled my latest culinary creation last night during a major chocolate craving. Granted I could have simple devoured the bag of chocolate chips, but somehow I talked myself into believing that cake mix cookies would somehow be better for me. And I believed me.
Why cake mix cookies, you ask?
Simple.
I was just plain too lazy to pull out and mix the whole six whopping ingredients it takes for my regular chocolate chip cookies. Besides, I was tired and hungry and I wanted chocolate chip cookies NOW!
(Ever had one of those days? Yeah, me too…)
Oh, and I also had a box of Duncan Hines Butter Golden cake mix in the ol' pantry, so that got my wheels turnin' too. Don't get me wrong – the Butter Golden cake mix is absolutely delicious! But, I was too lazy and impatient to actually bake the cake and wait for it to cool before I could eat the chocolate frosting straight from the can put the frosting on the cake.
Cake mix cookies seemed so much easier. And, as it turns out, I was actually right this time! It wasn't one of my normal weird-recipe-kitchen-disasters, so I was pretty proud of myself.
Go me!
Tips for Making Cake Mix Cookies
I did learn a few things during my cake mix cookie experiment too. While these aren't a substitute for from-scratch homemade chocolate chip cookies, they're pretty darn close, not to mention super fast and easy to make. With a little tweaking, I'm sure I can get the recipe right to where I want it.
Here's a little of what I learned and some possible tweaks for the future…
As I mentioned above, I used Duncan Hines Butter Golden cake mix for my chocolate chip cake cookies. However, I'm sure that nearly any cake mix will do. I'm thinking chocolate cake mix with peanut butter chips next time!
I simply added chocolate chips because I wanted chocolate. And how! You could probably omit these altogether or substitute them for something else, like pecans or dried cranberries.
The dough for my cake mix cookies was a little runnier and thinner than my regular cookie dough. Next time, I think I'll cut back a little on the oil and chill my dough before baking.
My cake mix cookies also turned out a little on the flat side. Chilling the dough prior to baking will help with this, I'm sure, but maybe a pinch of baking powder next time.
These cake mix cookies bake in no time flat! If you like a softer chewier cookie, make sure you watch these like a hawk while they're baking. You'll want to remove them from the oven when they still look a little undercooked.
Now onto the yummy part…
Chocolate Chip Cake Mix Cookies Recipe
Ingredients 
– 1 cake mix
– 2 eggs
– 1/4 Cup water
– 1/4 Cup oil
– 1 bag chocolate chips (Optional)
Instructions
1. Empty cake mix in mixing bowl. Add eggs, water, and oil and stir until there are no lumps.
2. Chill dough for at least an hour. (Optional)
3. Line a baking sheet with parchment paper, and drop spoonfuls of cookie dough 2 – 3 inches apart.
4. Bake in a 350° oven for 8 – 10 minutes.
5. Let cookies cool (or not…) and enjoy!
More Frugal Living Resources: