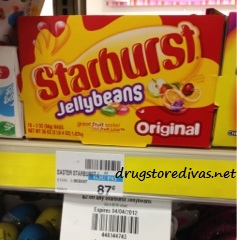 Next time you are in CVS make sure to scan your card at the CRT to see if you get a high value $2 off any Starburst Jelly Beans coupons! The larger packages are $2.99 but you can also get these smaller boxes for just $0.87. Plus you will get the overage on the coupon making this a $1.13 money maker!
Remember that you will have to have other items to cover the overage, you will not be able to get cash back.
Thanks, Drugstore Divas!