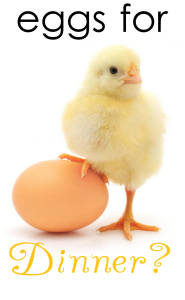 Eggs for dinner?! Oh yeah…
One of the best things about eggs is that they aren't just breakfast foods. You can have eggs for lunch and even eggs for dinner too!
They're full of protein, vitamins, and nutrients. Oh, and they're tasty too! Just about anything tastes better with an egg on it. If you're on a budget, eggs for dinner could also be a life saver at times. Not only are they filling, but they can also be rather inexpensive, especially when you can find them on sale.
Here are a few great ways to have eggs for dinner.
BELTs
Not a BLT, but a BELT – bacon, egg, lettuce, and tomato. Yum! This is one of my favorite ways to have eggs for dinner. Regular BLTs in my house just don't seem to do it for dinner. It always seems like someone wants extras. Toss fried eggs on those bad boys, though, and they're more filling and tasty.
Cheeseburgers
You haven't had a cheeseburger until you've had a cheeseburger with an egg on it. The yolk adds bulk, making it more filling, and the yolk acts as a sauce. For a breakfast twist on a burger, use a toasted English muffin in place of a regular cheeseburger bun.
Steak and Eggs
You don't have to have an expensive cut of beef to enjoy steak and eggs for dinner. Just quickly pan fry some steaks until they're medium rare, and plop a fried egg on top. If you have a very inexpensive and tough cut of beef, you can also sear it and cook it in a slow cooker for a few hours to make it more tender. It's the ultimate comfort food, especially if you're a fan of truck stop food.
Frittatas
The beautiful thing about frittatas is that you can use eggs and just about anything else, and they're good. Making a frittata is a great way to use up leftover vegetables and meat before they go bad. It's also a great way to use up an abundance of eggs for dinner. To make a frittata, first cook and break up any meat (if you're going to add it) and saute some vegetables in an ovenproof skillet. Scramble several eggs, and add them to the hot skillet. Let the egg distribute throughout the filler and let it cook on medium low until the eggs start to cook all the way through. Toss some sliced or shredded cheese on top and finish the frittata off in the oven or broiler.
Pizza
This is one of the ways to have eggs for dinner that I haven't tried just yet, but I fully intend to! And soon, since I just picked up three dozen eggs on sale. Start with a regular pizza crust, add your sauce (I'm using Alfredo sauce), cheese, and other toppings. Crack a few eggs on top and pop it into the oven. The egg whites will set and the yolks should still be a bit runny when the pizza is done cooking.
Do you have eggs for dinner? What are your favorite ways to eat eggs?