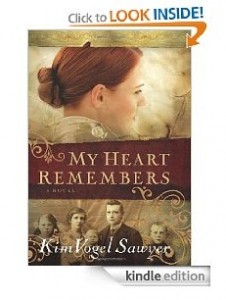 Just came about this Free Kindle book download available right now: My Heart Remembers
by Kim Vogel. It is also available as a free nook Book.
Short excerpt from a review on Amazon:
"My Heart Remembers" is the story of three Irish-immigrant siblings, orphaned in a tenement fire. After traveling on an orphan-train to Missouri, they find themselves split up, taken by three different families. Maelle, the oldest at eight years old, vows to find her brother and sister one day. But time stretches on, and though her promise burns within her, hope grows dim.

Ms. Sawyer weaves a beautiful story. It's a tapestry of heartache, joy, hope, pain, faith and love. As we follow the paths of the now-grown children, we see how even in the midst of trouble, they have never been alone. And out of their pain, God creates something precious and meaningful.

Not many books bring me to tears, but by the last chapter, that's where I was. I highly recommend this moving, lovely book. Long after you read the last line, your heart will remember the Gallagher children and Kim Vogel Sawyer.
Remember that you do not need a Kindle e-reader to be able to read this book. You can read it on your PC, iPhone, iPad
, Blackberry and Android. Just download for free the appropriate application to be able to do that. Amazon changes prices without notice, so make sure to check that the kindle price it is still $0.00 before you start downloading this book.