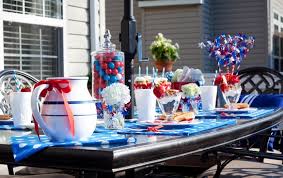 The 4th of July is almost here! Just a few more days until we celebrate our independence and patriotism!
Even though this holiday is quickly approaching, there's still time to plan a 4th of July party. If you don't have a big budget, it's even very possible to host a frugal 4th of July party this year!
Here are a few tips to help you pull off a 4th of July party without breaking the bank…
Have a 4th of July Potluck
One of the best ways to host a frugal 4th of July party is to make it a potluck! If anyone offers to bring a dish or side to your party, don't feel bad about accepting. You can also politely ask each guest to bring a certain item, such as a side dish, potato chips, or drinks. Just make sure you keep track of who's bringing what, otherwise you might end up with duplicates. A 4th of July potluck will help keep costs down and save you a little work.
Take Advantage of Free Venues
Don't have enough room for a 4th of July? If it's not in your budget to rent a venue, take a look at the public parks in your area. Many parks have picnic areas, large pavilions, and even barbecues that are free for everyone to use. Just make sure you get there early to grab a spot!
Scout Seasonal Sales
Stock your frugal 4th of July party with items that are on sale during this time of year. Save even more by pairing these sales with coupons! You should be able to find the basics, like hot dogs and chips on sale. Don't forget to check out the seasonal produce too! You should be able to find seasonal favorites like bell peppers, strawberries, blueberries, eggplant, green beans, watermelon, and corn on the cob for cheap right now!
Make Your Frugal 4th of July Party BYOB
Alcohol can eat a big chunk of your 4th of July party budget. For a truly frugal 4th of July party, make it clear that your party is BYOB. With guests bringing their own alcoholic beverages, you can use more of your budget toward the necessities.
Go Easy on the Decorations
Although patriotic decorations are nice to have at a 4th of July party, they aren't absolutely essential. If you do choose to decorate, keep it simple. Subtle accents of red, white, and blue are tasteful and simple decorations won't put you in the poorhouse. Head to the dollar store and pick up some red, white, and blue balloons, plates, cups, and napkins. Red and blue Kool-Aid also serves double duty, or you can try your hand at some simple homemade 4th of July decorations.
Opt for Cheap and Free Fireworks
The 4th of July isn't complete without fireworks! But, if you're planning a frugal 4th of July party, you'll probably need to skip buying your own. Instead, head out at sundown and catch a free fireworks show in your area. If you don't want to deal with the mayhem afterward, you can always hang around a bit and have a night time picnic until the traffic clears. If you must have your own fireworks, sparklers are always a hit with kids and adults. You can also pick up some for super cheap at most dollar stores this time of year.