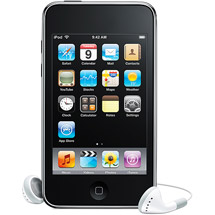 Walmart is rolling out the pink carpet for this Valentine's Day.  First, together with M&M's they are helping you embrace those you love by allowing you to send a FREE eValentine after you upload your picture here.  The image will be converted into a very lovely mosaic image.  Second,  you can blow a Kiss to your loved one.  The FREE Blow Kiss iPhone application allows you to send a message and a virtual Hershey's Kiss to your valentine.  All you need to do is enter your message and blow into your iPhone (yes, you have to actually blow on it) and your loved one will get a little something sweet from you.
The sweetness doesn't stop there.  You can also check out the Top 10 Romantic songs downloads as chosen by me and the rest of the Elevenmoms.  All you need to do is click on each of the chocolates on the box of chocolates.  That's pretty cool!  But you can also submit your own list of top romantic songs or you can vote for those already submitted.  BUT, how would you like to get YOUR top ten romantic downs downloads AND and iPod touch for FREE?  Yes!  I have one iPod Touch (second generation 8GB) to give away and a $10 itunes card for you to upload the top ten romantic songs.
So, what do you need to do to win this? It's very simple:
All you need to do is tune in to our show Money4moms.  Starting with today's Money4Mom radio show (2PM CST), we will be giving you a codeword to use to enter the giveaway.
Once you know the codeword, you can enter your name, email address and codeword into the form below and you will be entered into the giveaway.
For extra entries, you can:

Listen to the shows on 2/5 and 2/12 for two more codewords.
You can stumble, tweet or blog about this giveaway.  If you tweet about this giveaway please use the hashtag #embrace so I can keep track of it.
If you have listened to the other shows, have stumbled, twittered or blogged about this giveaway, you must enter your information in the form separately
I will make this post a sticky post on the top of my blog and will provide reminders so you can tune in to our show.  If you can't listen live you can listen to the taped podcast using the Blue Blogtalkradio player on the right side bar of this blog.  This giveaway is open to U.S. residents only.  It ends on February 12 at 10 PM CST.  At that time I will select a winner randomly.  The winner will have 24 hours to claim his/her prize, otherwise I will consider it forfeited and will select another winner.
This giveaway is now closed.