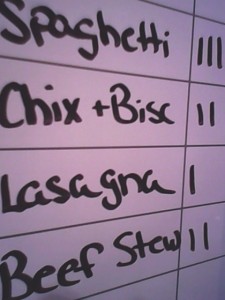 I am a big fan of make ahead meals. They're great for those night when we're too busy to prepare a complete meal, or for those nights when I just don't feel like cooking. On the other hand, make ahead meals also satisfy my urge to get into the kitchen and just cook cook cook some weekends!
A whole freezer full of make ahead meals do take some time to prepare, but they're definitely worth it. Besides saving time on those busy nights, they can also help you save money in the long run. Most vegetables and cooked meats go bad after a short time. however, if they're cooked first, most of them freeze well.
If you're new to make ahead meals, the following tips and tricks can help get you started.
Make Similar Meals On the Same Day
I find that it's easier to assemble similar make ahead meals on the same day. For instance, one day I might make a couple batches of spaghetti sauce, lasagna, and chili. Another day I might make some chicken noodle soup, chicken and biscuits, and chicken pot pies. I find that it keeps everything neat and easier to clean.
Cook Extras
If you don't have the time – or focus to devote to an entire day of cooking, you can still put some make ahead meals in your freezer. Just make double or triple batches of your favorite meals. For instance, make two giant pans of goulash instead of one small one. Have some for dinner that night and divide the rest into freezer safe containers for another night.
Don't Use Your Good Pans
I learned this tip for make ahead meals the hard way. When you're putting away make ahead meals, don't use your favorite casserole dishes to store them, since you'll most likely find that you'll need them in the near future. Instead, invest in some cheap disposable aluminum pans. you can usually find packs of these at your local dollar stores. You can also put make ahead meals in resealable freezer bags or line a pan with foil before freezing, making sure that the foil over laps the sides. Once a meal is frozen, you can remove the whole thing by lifting out the foil and store it in a freezer bag or wrapping it in plastic wrap. No matter what type of container you use, make sure you seal them well. Otherwise, they may make a mess or get freezer burn.
Stay Organized
Be sure to label and date all of your make ahead meals as soon as you package them. By doing this, you'll know exactly what's in each container and when you should eat it. You might also want to post a master list of make ahead meals on the outside of your freezer so you'll know what you have on hand. Just cross off or erase meals as you eat them. I keep a white board on my freezer just for this purpose.
Portion Make Ahead Meals Correctly
Don't freeze giant portions of make ahead meals unless you plan on feeding several people. Instead, freeze portions that are just large enough to feed your family. You might also consider freezing single serve portions of some meals as well. This way, you'll have a quick meal for just one or two people when you need it.
Don't Forget the Sides
Main entrees aren't the only thing you can make ahead and freeze. Many sides freeze well too, and help you save time on days you just want to throw something in the slow cooker. Sides that freeze well include prepared vegetable, potato, and rice dishes. You can also usually freeze biscuit and cookie dough. Simply place single portions of the dough on a cookie sheet, cover with plastic wrap, and put it in the freezer. Once the dough is frozen, you can put it into a freezer bag. When you need biscuits or cookies, just remove as many as you need, allow them to thaw on a cookie sheet, and bake.
Now it's your turn. What are your favorite make ahead meals? Do you have any tips to add?