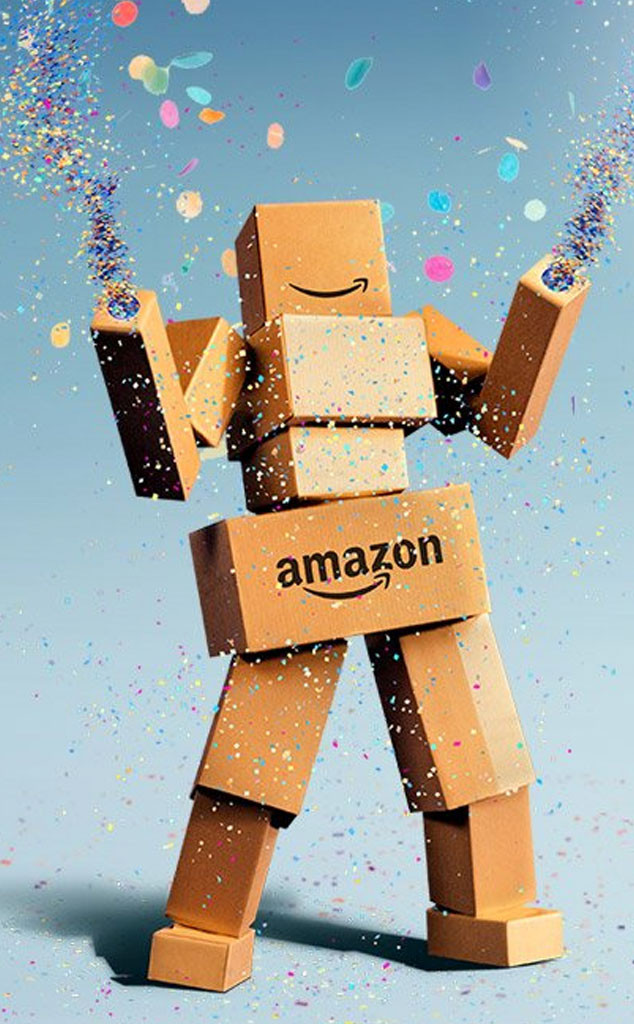 Oh, Amazon… What have you done now? It's gonna be a while before you live this one down!
Amazon's Prime Day has come and gone. But, was it everything that it was hyped up to be? Poll the majority of the Internet, and there's a good chance that the answer to that question is a resounding "NO!"
Online buyers were promised more deals than Black Friday during Prime Day, and the e-commerce giant did not technically disappoint in this aspect. There were tons of items on sale yesterday, with new Prime member exclusive deals starting every few minutes. But, while there were a few good deals to be had here and there, the majority of the items were nothing more than an odd and completely random assortment of, shall we say, junk. Hey, Amazon said there would be more deals that Black Friday, not better deals than Black Friday!
Not surprising, online consumers took to social media to vent their frustrations. Twitter in particular was really buzzing yesterday, with the hashtags #PrimeDay and #PrimeDayFail trending all day. In fact, I dare say that many of the Prime Day sales and deals were so bad that watching these trending hastags was actually more entertaining and maybe even a better use of time.
I'm not the only one that feels that way either…
#PrimeDay tweets are better than actual PrimeDay.

— Teressa (@MaddisonTeressa) July 15, 2015
I must admit that I did spend an embarrassing portion of my day following the Prime Day tweets and cracking up. I just couldn't help myself. We did try to highlight some of the better Prime Day deals for you guys, but…yikes! Truth be told, it was a little difficult. These tweets actually sum it up nicely…
Is it #PrimeDay or april fools because these deals are a joke @amazon Bring out the real deals! — Stephanie (@littlemoremoore) July 15, 2015
Searching for deals on #PrimeDay like pic.twitter.com/2mELR70SPg — Rektifier (@KamikazeCoyote) July 15, 2015
.@amazon Ah, now, eventually you do plan to have actual deals during your #PrimeDay deals event, yes? Hello? pic.twitter.com/bMCItmXOLt

— not Jony Ive (@JonyIveParody) July 15, 2015
The actual deals were, at best, completely underwhelming and few and far between. In fact, the vast majority of the sales were so bad that consumers likened Prime Day to a rummage sale, a bad garage sale, or closeout sale…
#PrimeDay is basically the weird guy at the end of the street having a yard sale. All the random stuff no single person should own. — Kyle Davis (@KyleDavis777) July 15, 2015
#PrimeDay feels like… pic.twitter.com/Dxsfx26nwd — Brian Tong (@briantong) July 15, 2015
It's really cool that @amazon was able to raid a Rite Aid and an abandoned Circuit City for this #PrimeDay sale! #PrimeDayFail — Matthew James Morgan (@MattMO2Go) July 15, 2015
Okay, @Amazon is now selling blank CDs and chef hats. #PrimeDay has officially reached Garage Sale status. Woof. pic.twitter.com/Lb0CdTzVCe

— Joe Scannell (@Joe_Scannell) July 15, 2015
Amazon took most of the heat on Prime Day because of the types of products sold. As mentioned above, it really was a hodge podge of weird random stuff!
All I've learned from #PrimeDay is that @amazon has GROSSLY miscalculated my interest level in discount vacuums and cat toys. — mah ree nah (@marinarachael) July 15, 2015
My favorite thing about #PrimeDay is looking at what people are buying. There's a wait list for an electronic pencil sharpener. In 2015.

— Kelli (@ksnedegar) July 15, 2015
My Christmas this yr be like, "And u get a tupperware container, & u get a tupperware container, & u get a tupperware container!" #PrimeDay — AK Stout (@akstout18) July 15, 2015
Oh man, gotta set my alarm clock to 4:59 a.m. so I can score this shoehorn! #HappyPrimeDay #PrimeDay pic.twitter.com/pPInOBhqLM

— theneener (@theneener) July 15, 2015
Amazing deal on #PrimeDay 46% off! 55 Gallons of pure passion can be yours TODAY! https://t.co/ooNDp7Y2rz — Mark (@NikonPunch) July 15, 2015
INCREDIBLE DEALS ON #PRIMEDAY 1 shoe: $19.23 19 bugs: $2.81 half eaten book: $8.66 drum that is actually a can: $34.72 child's tooth: $0.23

— Rich Lowtax Kyanka (@lowtax) July 15, 2015
I really hope that the last guy was kidding, but it really wouldn't surprise me if he wasn't. Of course, not everyone was completely disappointed on Prime Day…
I wanted to thank @Amazon for saving me a bunch of money on #PrimeDay! By not having anything worth spending money on xD — Sea Otter (@SeaOtterGamer) July 16, 2015
Turns out #PrimeDay was better than expected! I thought I would waste hundreds but ended up spending nothing at all.

— Morgan C. Besmer (@MorganBesmer) July 15, 2015
And, I'm sure that Amazon is laughing all the way to the bank. After all, Prime Day was more an attempt to snag new Prime members…
"Amazon CEO, Jeff Bezos Interviewed on Prime Day https://t.co/RzFAUZtZXI via @YouTube" #primeday — Maddy (@urstrulymaddy) July 17, 2015
I know that Prime Day was more of an attempt to get new Amazon Prime customers, but Prime Day was just a disaster, and truly not representative of the advantages of an actual Amazon Prime membership. Unfortunately, Prime Day may have backfired just a bit, and even loyal Prime members are a little ticked.
#PrimeDayFail or not, one thing's for sure. Don't piss off the Twittersphere! Despite the backlash, though, even still die hard Amazon fans have to admit…some of the #PrimeDay tweets were pretty darn funny…
@avitable Never trust a mascot made out of shipping boxes. God I miss Bubble Wrap Bunny. HIM you could trust.

— Michael Emond (@MichaelEmond) July 15, 2015
Got this awesome dive suit at #PrimeDay pic.twitter.com/h0V6MhrZoJ — jamie (@gnuman1979) July 17, 2015
#PrimeDayFail was a billion times better than actual #PrimeDay https://t.co/ZILoJFSJC7 pic.twitter.com/KQ0e1maCZ4

— Gawker (@Gawker) July 16, 2015
Look I take out my garbage every Weds but I don't buy TV ads and call it #PrimeDay. — Gary Whitta (@garywhitta) July 16, 2015
Thanks @amazon for reminding us that there is a day more disappointing than Monday. #PrimeDay

— Dana Weiss (@Possessionista) July 15, 2015
With all the sweet deals on 55-gallon trash bags and duct tape, #PrimeDay has been great for the serial killer community — Wonderella (@wonderella) July 15, 2015
#Primeday is the time your parents say you are going to Disneyland and they take you to the dentist instead.

— Joe Martin (@joeDmarti) July 15, 2015
I just don't know about these #PrimeDay deals tbh pic.twitter.com/t9sqILGDeq — Scot Hampton (@shamptonian) July 15, 2015
#PrimeDay is killing it. Do you have any idea how long I've been waiting for Strawberry Pop Tarts to go on sale? pic.twitter.com/m7P6fRzyJi

— MJ⛳️ (@MJGWrites) July 15, 2015
#PrimeDay is a bigger disappointment then I am to my parents — Alex Wakehouse (@AlexWakehouse) July 15, 2015
#PrimeDay is like when grandma says "help yourself to the candy jar!" but it has nothing but raisins and sugar-free salt water taffy

— Dera Luce (@DeraLuce) July 15, 2015
Bought two Roombas during #PrimeDay, and now I'm going to have them battle it out in my living room for my approval. — Daniel Carrillo (@DanielRCarrillo) July 15, 2015
#PrimeDay is like when your dad goes on a business trip and promises presents but really he just bought you coloring books at the airport

— internet operator (@DJDadMCMom) July 15, 2015
#PrimeDay is like when your friend claims he's throwing an epic party but you show up and there's only a 6-pack and a bowl of Cheetos — Greg Andersson (@Andersson_Greg) July 15, 2015
Now whenever something in my life goes wrong or I have a bad day, I'll say I had a #primeday.

— Mia Taylor (@MiaTaylor) July 15, 2015
Is it possible that @amazon just slept in or something? That #PrimeDay hasn't started yet? Am I naive to still be refreshing here? — AnnaProsserRobinson (@AnnaProsser) July 15, 2015
What did you all think about Prime Day? Did you actually snag a good deal or two, or was it a bust for you too?