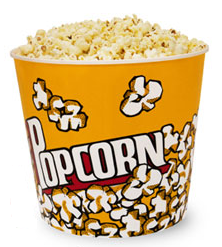 Going to the movies is a classic and fun past time for families, friends, and couples. These days, thought, the price of going to the movies is so high, it's almost not even worth it.
If you love seeing new flicks but have a shoestring budget, here are a few helpful tips to save money at the movies.
Don't Hit the Theaters
The simplest way to save money at the movies is by not going to the expensive theaters. You can usually get brand new movies on demand through cable right in your own home. This is much less expensive than buying an expensive movie ticket and overpriced concession stand snacks. If you don't have on demand cable at your own house, ask a friend, neighbor, or family member if you can order the movie you want through their cable. Just make sure you split the cost of the movie and snacks.
Head to the Drive-ins
I love drive-in movies, and thankfully there's still a nice family owned drive-in in my area that we frequent every summer. Admission to a drive-in per person is usually MUCH cheaper than cinema ticket prices, and you usually get to watch two movies instead of just one. Another great thing about drive-in movies is that you won't get dirty looks from anyone if you bring your own snacks.
Go to the Movie Matinees
Regular movie tickets are generally around twice the price of matinee movie tickets, so you can save money at the movies by getting matinee tickets instead. Most movie theaters have matinee showings on certain days, especially Sundays, or earlier in the day. Call your local cinema to find out when their matinees are.
Don't Buy Movie Tickets at the Cinema
Skip buying yout tickets at the cinema if you want to save money at the movies. You can often find better ticket prices online. For instance, you can often find packs of discount movie passes at Costco or BJ's, both in stores and online. You might also be able to find some discounts on movie tickets and concession snacks at cinemas in your area on Groupon.
Sign Up For Emails and Loyalty Programs
Most large movie chains help you save money at the movies as well. You can sometimes get coupons and discounts for movies and concessions just by signing up for newsletters. You can also join your local cinema's loyalty program to help save money at the movies, if you're a frequent movie goer. These programs usually allow you to earn rewards toward discounts and freebies.
Eat Before You Go To the Movies
Snacks and drinks are often one of the biggest costs that makes it hard to save money at the movies. To help reduce the temptation to grab overpriced stale popcorn and drinks, eat a nice meal before going to the movies. You'll be less likely to purchase snacks if you're already full.
Take Your Own Refreshments
This is something of a gray area when it comes to going to the movies. Some people believe it's a perfectly good way to save money at the movies, while others do not. In reality, it's not usually forbidden to bring your own snacks into most cinemas, but it is frowned upon. I wouldn't go rolling a giant cooler past the concession stand on your way into the movies, but I really don't see a problem with smuggling in a couple drinks and candy bars.
What about you? What are your favorite ways to save money at the movies? Do you thinks it's acceptable to bring your own snacks?