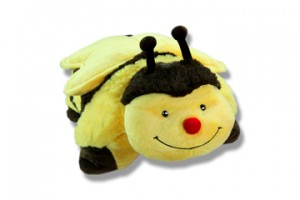 I am very excited about the deals available right now at Walgreens, CVS and Rite Aid.  In fact I am going to take advantage of the money maker deals at Walgreens to get my kids the pillow pets they want to get.  I already got one last night and this is what I did:
Pillow Pet $19.99
Used $3/$15 Walgreens coupons from getting the flu shot (my arm still hurts :-()
Use two $5/1 register rewards form buying Cold Eeze two weeks ago
Paid $6.99 out of pocket plus I got a Walgreens coupon for $5 off $25
This is my plan for today.  It will take three transactions to get my cheap pillows.  I will do this transaction twice, as I have two $5/1 coupons:
Buy the Secret $3.49
Buy Olay body wash $3.49
Use the $5 Coupon
Pay just $1.98 and get back $5.99 in Jingle Cash
Then
Buy Pillow Pet $19.99
Buy Herbal Essences $2.49
Buy Colgate Toothpaste $2.99
3 Small fillers $0.99 total
Use $5/25 coupon
Use $11.98 in register rewards from the transactions above
Use $1/1 Herbal Essences coupon
Pay $8.48 and get back $4.50 in register rewards
That's how I play the Drugstore Game to use moneymaker deals (Secret and Olay) to pay less for things I want (pillow pets).  Then I will probably go back on Saturday to use the $4.50 in RRs I got back to get some hair elastic bands which I need.
What's your plan?