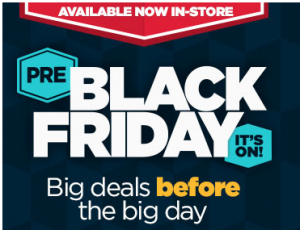 *HOT* See if you can grab the Element ELEFW408 40″ 1080p 60Hz Direct-Lit LED HDTV for $115! This is working and in-stock online for some, but your mileage may vary on this one!  I'm pretty sure this deal is now dead online.
If you're planning on shopping the Walmart Pre-Black Friday Event today, you might want to get to the store! You can browse the ad here.
Sales went live today at 8:00 AM in stores. A few hot items, like the $115 40″ HDTV, are available in stores only, but you can still snag some great deals online right now!
Check out all of the sales online! More items are being added as I type this, so I'll be updating this post periodically.
Several sales say "out of stock online", but I'm not sure if they're actually out of stock, or if they're only available in stores, or if they'll go live later today.
Here are some of the noteworthy deals that are still in stock that I've found so far:
*NEW* Connect 4 Game – $4.88
*NEW* Guess Who? Game – $4.88
*NEW* Gibson Home Essential Total Kitchen 83-Piece Combo Set – $49.97 
Nextbook 7″ Tablet 16GB Quad Core – $59.99 (Was $79.99)
Lifetime 44″ Pro Court Height-Adjustable Portable Basketball Hoop – $83.00 (Was $179.99) Also available on Amazon for this price!
How to Train Your Dragon 2 Blu-ray combo pack – $9.96
Majik Arcade Basketball – $39.99 (Was $69.99)
GE 14MP Digital Camera with BONUS Memory Card Bundle – $79.94+
*Back in stock!* Skylanders Trap Team Starter Pack (PlayStation 4 and Nintendo 3DS) – $37.00
Disney Frozen vanity set – $35.00 (Was $49.97)
Girl Tech Password Journal 8 – $15.00 (Was $19.97)
Little Virtuoso Slammin' Jammin' Drum Set – $29.97 (Was $44.97)
ESPN 60″ Air Hockey Table – $70.00 (Was $109.35)
Chatsters Interactive Doll – $48.88 (Was $79.97)
Keurig K40 w/$25 gift card – $99.00
LeapFrog My Pal Violet – $14.69 ($22.88)
Baby Alive My All Gone Doll – $24.88 (Was $39.97)
Lalaloopsy Babies Diaper Surprise – $15.00 (Was $29.98)
Fisher-Price Laugh & Learn Puppy's Smart Stages Train– $20.99 (Was $34.97)
Little Virtuoso Romping Stomping Piano Mat – $29.99 (Was $40.99)
MORE TO COME!!
Resources You Might Like: