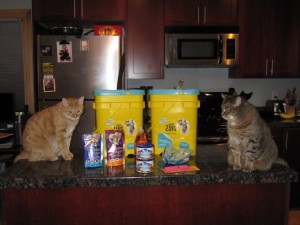 The winner of this week's Iron Shopper is Becca.  Becca submitted this totally adorable pic of her deals and her kitties Lewie and Stewie.  You can see her cats are totally grateful Becca rocks the deals to get them cheap kitty litter and cat treats.  Well done Becca!
You too could be an Iron Shopper. If you are rocking the deals all you need to do is make sure to share them in the weekly Iron Shopper post I set up every Monday.  make sure to share them with friends and family to get as many votes as you can.  The deal with the most votes wins!
The winner of email your deal is Melanie. She emailed me to share the foollwoing about Plastic Jungle:
There is a site called plasticjungle.com where you can purchase gift certificates at a discount, for example: Target is 3% discount, and Pier 1 is a 13% discount. They guarantee all of their transactions ( i.e. that the cards will have the value they say they do) and shipping is free. I'm going to be purchasing some patio furniture from Pier 1, and using these gift cards I can get a greater discount than if I would sign up for their credit card.

Plastic Jungle appears to be a secondary market for gift cards that you received that you want to sell, and then they are turned around and sold at a reduced price to buyers. I hope it works out to be as good as it seems!!

Thanks Melanie!
My inbox is ready for another week of email your deal. Don't forget to send me your hot deal finds for a chance to win a $10 gift card.  The more deals you email me the more chances you get to win.