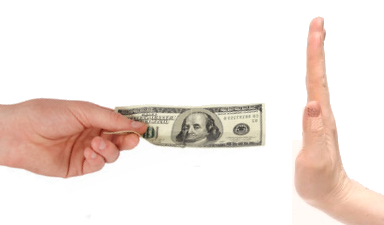 You've probably heard it since you can remember – "nothing in life is free".
I, however, believe that's simply not true. You can score lots of things for free, if you know where to look and figuring out exactly what's worth paying for and what isn't.
Over the years, I've done just that. During a rather difficult financial time, I had to get a little creative and either cut out some of our wants and needs, or find other means to obtain them – for free.
So, here's a short list of just a few of the things you should never have to pay for…
1. Banking
With all of the free banking services available, banking is one of those things that you should never have to pay for. If you want free banking services, you'll need to pay attention to where you do your banking as well as how you do your banking.
First, look for banks that offer free checking accounts. Some offer completely free checking accounts, while others require you to set up a direct deposit or keep a minimum balance in order to qualify for free checking. If you can't find a local bank that offers free checking, try looking online.
If you believe banking is one of those things you should never have to pay for, you should also pay attention to your banking habits. For instance, overdraft fees can cost you a fortune, even if you have free checking, as can out-of-network ATM withdrawals.
2. Toothpaste
Oddly enough, toothpaste is one of the major things that you should never have to pay for. It's an essential personal hygiene item, though, so how do you get away with not paying for it?
Coupons and sales!
Almost every week, toothpaste goes on sale – somewhere. At any given time, there are also valuable toothpaste coupons. With a little looking, you can usually match a sale with the available coupons and score some free toothpaste. When you find the free coupon deals, it's usually a good idea to stock up, so you never run out.
3. Exercise
So, you have a gym membership. You're going to pay someone else so you can exercise? Really? In my opinion, exercise is one of those that you should never have to pay for.
You don't need to join a gym in order to exercise. You can go for walks, do crunches, or even wrestle with your kids to get some exercise.
4. Classic Literature
I'm a pretty avid reader, and I have a huge collection of books. However, I believe that classic literature is one of those things you should never have to pay for.
You can often find classic literature for free, if you don't mind reading ebooks. Project Gutenberg in particular has a huge collection of free ebooks, and most of them fall into the classic literature category.
5. Filing Your Taxes
While you can't get out of paying taxes, filing you tax return is definitely one of those things you shouldn't have to pay for.
You can file your tax returns for free each year, if you don't mind doing a little work. Tax prep companies like H&R Block offer free federal efiling right from their website, if you choose to do your own taxes. if you take them to an H&R Block office, however, you could end up paying hundreds of dollars.
Some states also offer free efiling for your state tax return. Check on IRS.gov for a list of states that offer this service. You can also break out the pen and calculator and file your taxes the old fashioned way, which – to the best of my knowledge – is still free, albeit more time consuming.
6. Paper Towels
Paper towels are a nice luxury in my home. I don't buy them if I don't have to, since I see them as one of those things you should never have to pay for. Every now and then, though, I'll run into a smokin' deal and get some for free.
However, paper towels aren't a necessity, and i can get by just fine without them. I generally use washable rags for cleaning and spills, and I've found that newspapers are much better for cleaning glass. If I'm really in a pinch and need a paper towel, I just grab a coffee filter…
7. Water
Water is the most abundant resource on earth, and one of the things that you should never have to pay for. The only time that i can justify paying for water is if you live somewhere with bad water, such as if your well water has gone bad.
However, my father's well is a little iffy, and he still doesn't have to pay for water if he doesn't want to. There are several roadside springs in our area where he can fill his water jugs. He can also grab a few jugs of drinking water when he visits myself or my brother. Rainwater harvest collection units are also an option for some.
So, there's a list of a few things you should never have to pay for – at least in my opinion. What are some of the things that you've decided
you

 never have to pay for?