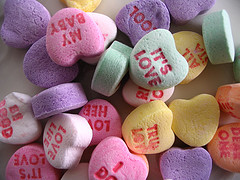 Valentine's Day is one of my favorite holidays because it's the holiday to celebrate love.  Yet, it is disappointing to see how it has become so commercialized.  Suddenly it is the norm to spend a lot of money on flowers, greeting cards, dinner and chocolate.  Here are some budget conscious alternatives to celebrate those you love on this very special day.
Have you looked at the price of greeting cards lately?  If it's not from the 99 cent selection, you are hard pressed to find a card priced less than $2.99.  The first alternative of course is to make your own.  But the one I want to mention today is write a love letter instead.  Let's be honest, a lot of us buy greeting cards because we lack the inspiration to write something romantic.  Maybe you are like me and lack the poetic gene.  If this is your case, start your letter with a borrowed poem and then just state your feelings.  I know this would be more meaningful to your loved one that a signed greeting card.
Red roses are a big Valentine's Day icon.  This is probably why their prices skyrocket around this holiday.  While I know if you look for the right deal you may get a dozen red roses for around $49.99. I find that's an outrageous price for flowers that will last you around a week.  My suggestion is potted flowering plants and there are some beautiful potted flowers out there: tulips, orchids, etc.  While their prices may be similar to those of roses in some cases, they are frugal because they provide more value for the money.  You should be able to enjoy the beauty of these flowers for longer than a rose would last.
Chocolate is another big seller around V-Day.  However, not just any regular chocolate would do, it "has to be" boxed chocolate (extra brownie points if the box is in the shape of a heart.  Martha Stewart shows here how you can make your own heart shaped box.  Recycle some of those red and gold wrapped chocolates you found on clearance after Christmas.  If you don't have any of that, you can find Starbucks chocolate truffles for $2 each box at Walgreens this week.  They are on sale 2/$10 and there's a coupon for $6 off two boxes in the ESR catalog.  Another great alternative is to make chocolate covered strawberries.  This would be a great use to that Holiday clearance chocolate and also a great finish to a nice dinner at home.
On V-Day we are also "supposed" to wine and dine our special someone.  A night out on the town can end up costing you a pretty penny.  My suggestion is to dine in and if you feel like going out, take advantage of free entertainment.  Visit art galleries, book stores or a local coffee shop with live entertainment.
These are just some of my ideas.  What are you planning to do to make your loved one feel special?  I am not sure yet.  With two little ones it is near impossible for us to go out at night.  But we have some nice steaks in the freezer and I saw lobster on sale at my grocery store.  I know my husband would appreciate anything chocolate for dessert.
Enjoy Love!