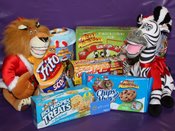 I have a very exciting and sure to please the little ones in your house giveaway:  I am giving away a Merry Madagascar Prize Pack.  If you have children, and even if you don't, you are probably familiar with Alex, Marty, Melman and Gloria.  They have been the source of fun and entertainment for my two little ones through the movies Madagascar and Madagascar 2.
What is Merry Madagascar?
Merry Madagascar is a first time collaboration between Walmart and Dreamworks to celebrate family time around TV Movie night.  This short film finds Alex and the gang still in Madagascar on Christmas Eve.  Through a series of funny events the gang finds themselves having to fulfill Santa's duties.  You will have fun following in all of the adventures the group will face as they complete this task.
Watch it FREE!
You can watch the movie for FREE tonight.  Tune in to your local NBC affiliate to watch this movie with the rest of your family.  Please check your local listings for specific times.  You really don't want to miss it.
Own it for Cheap!
You can pick up your own copy of Merry Madagascar for only $5 at your local Walmart starting tomorrow November 18th.  You can pre-order and enjoy free shipping to your own home for $5 total right now.  Any little one would love to find this in his/her stocking stuffer.
Enter This Giveaway
You could win your own Merry Madagascar prize pack including a $25 Walmart Gift Card, Merry Madagascar Plush Toys, Throw Blanket and Kelloggs and Kraft goodies pictured above, all you need to do is enter this giveaway.
There are four ways to enter this giveaway:
1)  Leave a comment sharing what your favorite Holiday Movie is.
2)  Follow me on Twitter and tweet the following:  "Walmart is giving one lucky reader a chance to win a Merry Madagascar prize pack. Find out how: https://bit.ly/2gIJNJ via @commnsensemoney "
3) Become a Facebook Fan of Common Sense with Money and share this with your own Facebook Friends  "Walmart is giving one lucky reader a chance to win a Merry Madagascar prize pack. Find out how: https://bit.ly/2gIJNJ "
4)  Share about this giveaway with your own blog readers.  Remember to leave me a separate comment sharing the link to your post.
This way you can earn up to four entries. Just please remember to come back and leave me a separate comment for each additional action you have taken (leave comment, share on Twitter, share on Facebook, etc).
If you are reading this entry via email updates or via RSS reader please CLICK HERE to visit my blog to enter. Emailing me is not a valid entry for this giveaway. This giveaway is open to residents of the United States only. Please enter only if you are 18 years or older.  This giveaway ends on 11/20 at 9PM CST.  At that time I will close the giveaway and select a winner randomly.
Disclosure: The Merry Madagascar DVD and giveaway pack were provided to me for free by Walmart and Dream Works.