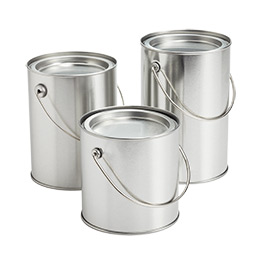 I know I've mentioned it before, but I love paint. Cracking open a can of paint is one of the cheapest decorating moves you can make. Even if you don't have the money for a whole home makeover, it's amazing what a couple cans of paint can do.
For the past two days, I've spent a great deal of time around paint, doing a mini-makeover in my kitchen. The monotonous rolling and brushing gave me a little time to think, and I realized that there's not much of anything you can't paint. To prove my point, I figured I'd do a quick post on how to paint just about anything in your home. (Except your fluffy black cat, of course. Even if you have a brush full of white paint to make her look like a skunk. Ugh! Tempting!)
Anyway…back to the task at hand – how to paint stuff. All sorts of stuff!
Faux Wood Paneling
It might see odd to start out with how to paint wood paneling, but here me out. This is what I spent two days trying to eradicate with my perty white paint. I hate wood paneling with a passion, and it's finally gone. Gone! Gone! Gone!
How to Paint Faux Wood Paneling:
If you want to know how to paint that God-awful faux wood paneling that was so popular in the 70's, keep in mind that the key is to prep, prep, prep! Fill in any holes with wood putty or caulk, wipe off as much grime as you can, and add a coat of good primer. Finally, add a couple coats of latex paint in any color you want.
Floors
Got an ugly wood or concrete floor that even throw rugs can't help? White painted floors look amazing, but they're hard to keep clean than darker colors. You can also paint designs on floors, like squares, stripes, or stencils.
How to Paint Floors:
Again, it's all in the prep. Secure loose floorboards, fill in any cracks, pits, holes, and crevices, and give your floor a good scrubbing. Start with a primer and be sure to use a paint designed for decks and floors. Oh, and don't paint yourself into a corner.
Throw Rugs
You can even paint rugs! I find this concept amazing, but I don't have a low pile area rug. You can only paint throw rugs with low pile or one made from jute, since high pile carpets absorb too much paint, feel stiff, and get matted.
How to Paint Throw Rugs
First and foremost, only try to paint throw rugs that you're going to throw out anyway! Start with a primer to make sure any pattern underneath is covered. Then, just go to town. I've read that regular latex paint works well, but you might want to use a floor paint, since these hold up to wear better. You can also paint a design or stencil to rug to add some personality and style.
Glass
I've seen lots of different painted glass projects, from homemade white boards to painted labels on masonry jars to stenciled french door windows.
How to Paint Glass
No need to get complicated here. You basically have two choices. If you want the paint to stay, you might want to use special glass paint, especially if you're going for a stained glass look. The exception here is chalkboard paint, which usually sticks to glass well. If you want to paint a surface that won't be handled or washed regularly, you can probably use regular latex paint. Try painting one side of the glass on an old window, and flip it to use as a white board.
Upholstery and Fabrics
This is another painting project that I have yet to tackle, but you can paint upholstery. Start small, with something like stenciled curtains or pillows before you move onto larger projects like chairs.
How to Paint Upholstery and Fabrics
If you want the paint to stay on the fabric, use a special fabric paint. This is especially true for items that will be washed, like curtains and slipcovers. Larger upholstered items, however, can be painted with a mixture of latex paint and fabric medium, which can be found at craft stores. To help the paint spread better, spray the upholstery with water before painting.
Is there anything else you're wondering how to paint? What's the coolest thing you've ever painted?