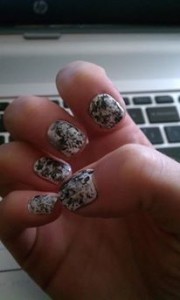 I must admit that I'm not much of a girly girl at all. My one really girly hangup, though, is doing my nails. I'm constantly trying out fun new crazy nail art designs and my collection of nail polishes could rival most small salons. It's actually a little embarrassing, but hey! We all have our vices. Mine just happens to be nail polish.
The downside to my little addiction is that nail poish requires time and patience, two things that I lack. With two hyper kids and a million things on my to-do list, wating for nail polish to dry is pure torture. I've tried everything to get nails to dry faster, from ice water to cooking oil to hairspray, but nothing worked well enough. I've considered investing in a quick dry top coat before, and it seemed like every nail art blogger out there swears by a quick dry top coat called Seche Vite.
Seche Vite is supposed to dry at lightning speed, which would be perfect for nail art addicts like me. Unfortunately, at around $10 a bottle, Seche Vite is a little pricier than I'd like. Plus, a common complaint is that it has a tendency to gum up before you can use the whole bottle.
As I was browsing around CVS this week looking for some good Sally Hansen deals, the Sally Hansen Insta-Dri top coat popped out at me. I've heard of it before and read a few decent reviews, so I decided to give it a shot.
It was around $7, which still seems pricey, but this week we also get $5 ECB back with any $10 Sally Hanse cosmetic urchase. Since I was picking up some Sally Hansen Hard as Nails ($3 minus a $1.50 coupon) I figured it wasn't too shabby of a deal. Together, the Sally Hansen Insta-Dri top coat and the Hard as Nails cost me something like just under $4 after coupon and ECB.
Now, I didn't have super high hopes for the Sally Hansen Insta-Dri top coat at first to tell you the truth, but this product really exceeded my expectations! It's actually pretty amazing, and perfect for impatient nail art junkies like me!
The directions say to apply the nail color and wait two minutes before applying a coat of Sally Hansen Insta-Dri top coat. And, for once I followed the directions. I applied two coats of nail color before applying a coat of the Insta-Dri top coat, and the nail poish was still a bit smooshy when I applied it. It's not as thick as some polishes or top coats, and it was really easy to apply. I really recommend wiping the side of the brush and the brush stick well before applying this, though, because the top coat does have a tendency to run down the brush.
This product claims that your nails will be dry to the touch in seconds—and that's no lie! It really was smooth, shiny, and dry to the touch in seconds! I could touch and rub my nail, and not a smudge to be seen. After a few minutes, I could lighty rub my nails together with no dents, smudges or scratches. I wouldn't recommend doing anything too hard on your nails a few minutes after appying the Saly Hansen Insta-Dri top coat, though. While my nails were dry to the touch, they weren't completely set all the way through the different laters at this point. If I pushed on my nails with something sharp, they probably would have dented. I was, however, back on my laptop and typing away about five minutes after applying the Insta-Dri top coat with no problems.
About 20 minutes after applying the Sally Hansen Insta-Dri top coat, though, I started getting a little antsy. I was already pretty impressed, but I wanted to really put it to the test. So, I decided to start putting together dinner for later that night—chili!
My chili making involved opening cans, cutting veggies, browning meat, stirring, and washing my hands about a dozen times. I was a little careful with my nails at first, but after I got going a little I just did everything as I normally would. And nothing! Not a ding, dent, or smudge! My nails were still perfect!
It's been three days since I applied the Sally Hansen Insta-Dri top coat, and I have a little wear on the tips of my nails and one small chip of missing top coat. The tip wear I expected, since I'm constantly typing. I generally change my nail poish every two or three days, though, so I can't comment on how long this top coat lasts.
I don't do many product reviews on here, but I felt that the Sally Hansen Insta-Dri top coat really deserved one! It exceeded my expectations and it wil definitely be my go to quick dry top coat from now on!
The only downside to this polish is that, while it's not as pricey as the coveted Seche Vite top coat, its still a ittle pricey. I would never have paid a full $7 for any nail polish, especially since Walmart carries the exact same product for $4.97! However, Sally Hansen does release coupons from time to time and CVS does run sales and promos on Sally Hansen products frequently. I'l definitely be stocking up on the Sally Hansen Insta-Dri top coat from now on!
I was not compensated in any way for this Sally Hansen Insta-Dri top coat review. I just think it's a truly awesome product that deserves a little recognition!