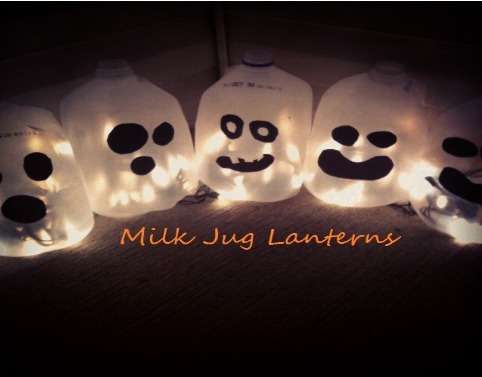 We drink A LOT of milk! It seems as if we had the room to raise our own milking cow, it would probably be cheaper…oh the dream to live life on a farm! Anyhow, back to reality! We love creating these "spooky" Milk Jug Lanterns to display on our front porch for Halloween! The kids had a fun time decorating and it was super easy.
If you are looking for a easy craft do for a classroom Halloween party, the Milk Jug Lanterns is the ticket!
15-30 ct. string of white lights (or flame less candle will work too!)
Cut a X on the bottom of the milk jug. This will allow you to slide the lights under the milk jug with ease!
Have your child cut out their "spooky" face with black construction paper and attach with white glue.
Plug in your strand of lights and watch your lantern light up!
If you want to get extra creative you can even spray paint the milk jugs orange to resemble a pumpkin and then attach your jack o lantern faces using the same method above! Let your imagination run wild with this super easy and inexpensive Halloween craft the whole family will enjoy. Not to mention it's WAY less messy than carving pumpkins!