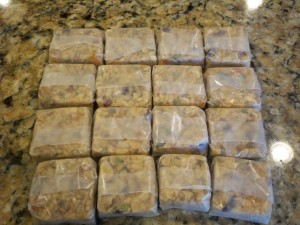 If you are like many of us we are packing lunches everyday for our kids lunches.  I like packing lunches for my family because I know exactly what they are getting.  I like that I am able to send them fresh foods to help there little minds and bodies grow.
When I pack lunches I try to use minimal processed foods.  Too many additives with names that I cannot pronounce.
One thing everyone in my family really likes is granola bars.  I have always had issues with buying granola bars.  The ones from the store seem so small and expensive for what you get.
A while back i went on the hunt for a tried & true granola bar recipe that my family would love.
I found a recipe on Pinching Your Pennies and adapted it a bit for our likes.  The approximate cost for a full recipe is about $2 for 16 bars.  That in my opinion is a great value.
Chewy Granola Bars
1/2 cup nut butter (I like almond, we have also used PB2)
1/2 cup honey
1 cup crispy rice cereal
1 cup oats (instant, quick or old fashioned)
1/2 chopped unsalted nuts and/or seeds (we like cashews)
1/2 cup chopped dried fruit (pineapple or craisins for us)
1/4 teaspoon salt (optional)
Place nut butter and honey in a small saucepan and heat over low heat just until melted enough to combine thoroughly with a whisk.
Lightly oil a 9X9 or 8X8 pan (whichever you have)
Center a piece of plastic wrap that is about 3 times the size of the pan over the pan and smooth it out to line the pan allowing the excess plastic wrap to hang over the sides.
Put the dry ingredients in a bowl. Add the combined nut butter and honey. Stir gently until well combined.  You might need your hands for this.
Pour mixture into pan and distribute as evenly as possible with the spoon you used to stir with (or your hands)
Now fold the plastic wrap over the mixture and press firmly and evenly into the pan.
Refrigerate for at least one hour.
Lift the plastic wrap and granola mixture from the pan all at once.
Place on cutting board and cut into 16 equal pieces.
A suggestion on the original recipe is to wrap each bar in waxed paper and put them into the freezer. Then when you are packing lunches you can just grab one and add it to the lunches. By lunch time they are thawed.
Some other mix in suggestions: almonds, raw pumpkin seeds, sunflower seeds, coconut, mini dark chocolate chips,  apricots and cranberries.
What items do you make from scratch for your kids' lunches?